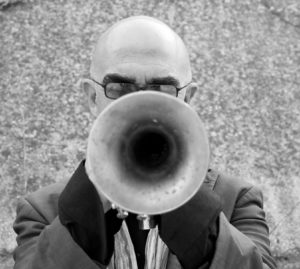 "Angelo Olivieri (Pitigliano, 1968, trumpet, flugelhorn, pocket-trumpet, composition, arrangement) is a trumpeter technically gifted, creative, curious, ready to embark on any project that involves something new, unusual, stimulating its lust for research and artistic growth. […] During his career he has put together different groups, always working in the field of experimental music … ". (Flavio Caprera Italian Jazz Dictionary – 2014 – Feltrinelli).
Musician appreciated by audiences and critics, since the first edition of the referendum Jazzit Awards, he stably figures among the 10 best Italian trumpeters. Moreover, he had numerous mentions in the TOP jazz both as an instrumentalist and for his records.
In 2004 he recorded the CD Oidé with the Oidé ensemble with the Terre Sommerse – jèi label. With the same label he published Nadir with the pianist Alessandro De Angelis (2006) and Echoes with Pasquale Innarella, Armando Battiston, William Parker and Hamid Drake (2007). In 2009, his CD CAOS Musique has obtained a whole critics' consensus. It has been defined "a wonderful example of contemporary imagination and sensibility" (Aldo Gianolio – Musica Jazz). In 2009 he also recorded as co-leader with the quintet Harafè, whose CD was presented at the JAZZ.PT festival.
In 2012 he publish three works: IF NOT – tribute to Mario Schiano, CAOS Musique – live @ casa del jazz and DIALOGO with the double bass player Silvia Bolognesi.
IF NOT , of the Olivieri – C Neto double trio has been indicated as one of the Best Releases by the NEW YORK CITY JAZZ RECORD.
In 2015 he recorder with his ZY project the CD Nowhere's Anthem (JAZZIT Records).
With ZY project he realized the soundtrack of the docu-ficion "Qualcosa di noi" by Wilma Labate.
Since 2013 to 2015 he has been the director of the world music ensemble Med Free Orkestra.
In October 2021, the label Time is the Enemy publishes the first single of the Electric Sheep Collective, led by Olivieri and formed by a numbers of musicians and performers. The title is This is for Fela and it is a tribute to Fela Kuti.
Festivals
He participated to many important Festivals such as Roccella Jazz, Friuli Venezia Giulia Jazz, CeglieJazz Open Festival, Teano InJazz, Tuscia in Jazz, Festival internazionale del jazz della Spezia, Roma – Casa del jazz, Roma – Auditorium Parco della Musica, Roma – Concerto 1° Maggio, Piazza San Giovanni, L'Aquila 6 Settembre 2015, jazz.pt (Lisbona and Evora), Moazz (Fundao), European Jazz Nights (Oslo), Festival International de Jazz de Madrid, London Jazz Festival… He played also in Germany (Munich), Kazakhstan (Astana and Aktobe), Thailand (Bangkok), Croatia (Rijeka and Rovinj), USA (Washington), Belgium (Bruxelles)….
Radio and TV
He participated as guest to many radio programs such as Radio 3 Suite (RAI), Radio 2 LIVE (RAI), Brazil (Radio 1 RAI), Tropicalia (Radio 1 RAI), Notturno Italiano (Rai International), Jazz Not Dead (Radio Popolare), Salt Peanuts (Radio Città Futura), So What e On the Corner (Radio Città Aperta), Acquarello Show (Radio Classica), Radio Rock Live.
He also participated to the John Sinclair Radio Show (episode 149) on Radio Free Amsterdam.
The French Radio HDR has dedicated to him an episode of the radio program Jazz à part.
Soundtracks
In 1999 he recorded "Bella ciao" popular italian song for a video work screened at the "Museo della Resistenza" Roma In 2006 he composed the music of the song "En tus pupilas", the soundtrack of the shortfilm FIN by Esteban Crespo In 2012 he performed the soundtrack of "The Helix" by Arghya Basu (improvised music for trumpet and objects). With the same technique he realized in 2013 the music of the documentary "Diario di Felix" by Emiliano Mancuso. With ZY project he composed and performed the soundtrack of the docu-film "Qualcosa di noi" by Wilma Labate (2014). In 2019 he made the music for the soundtrack of "Le Cicale" again for Emiliano Mancuso.
He has been Art Director of the Music Festivals "Note sulla Maremma" Pitigliano (GR) and "Jazz Trumpet Festival" – Vitorchiano (VT)
Collaborations
William Parker, Hamid Drake, Butch Morris, Vincent Courtois, John Sinclair, John Tchicai, Maria Pia De Vito, Andrew Cyrille, Bruce Ditmas, Yves Robert, Ares Tavolazzi, Bruce Ditmas,  Eddie Henderson, George Garzone, Lorenzo Feliciati, Alessandro Gwis, Pierpaolo Ferroni, Steve Jansen, Pat Mastellotto, Martin France, Armando Battiston, Paolo Damiani, Francesco Lo Cascio, Roberto Bellatalla, Riccardo Fassi, Tyshawn Sorey, Madya Diebate, Lillo Quaratino, Antonio Jasevoli, Federico Ughi, Alipio C Neto, Marco Ariano, David Riondino, Amir Issaa, Baba Sissoko, Eugenio Bennato, Enrico Ruggeri and many more.
He got a Master degree in Mechanical Engineering and a PhD in Fluid Dynamics.